Zakynthos tour: the Dancing Island
Description
Navagio Beach tour is a scenic self-guided audio walking tour in the Zakynthos' most famous beach. Discover credible and original stories written by top local professionals. Take your tour now and enjoy it instantly on your smartphone device.
Zakynthos: the dancing island is a new tour about the island of Zakynthos, from the elegant core of downtown Zakynthos town to the stunning beauty of the Navagio beach. It is a collection of fascinating stories that any traveller needs in order to truly appreciate the multifaceted beauty of an island famous for its poets, saints, shipwrecks, and sea turtles.
The tour begins in Solomou square, fronted by some of the island's most historic and impressive neoclassical buildings housing museums packed with unforgettable remnants of Zakynthos' turbulent and poetic past. The church of Saint Dionysios is dedicated to a saint whose life has all the elements of a good folktale about the ability of man and his creations to withstand earthquakes, pirates, fire, and the ravages of time. The church of Saint George was frequented by people who loved playing hide and seek with the authorities as they planned a revolution. Bochali is a cluster of verdant hills with a castle, mansions and unparalleled views. Marathonisi is a small islet south of Zakynthos town that seems destined to serve the needs of one of the Mediterranean Sea's most vulnerable inhabitants: the loggerhead sea turtle. It is even shaped like a turtle!
And then it is time to head inland, where a different Zakynthos awaits to be discovered. The bell tower of the picturesque mountain village of Koiliomeno presents you with the opportunity to debate the eternal question: To be or not to be? You may find the answer or you may not, but whatever happens, your next stop is definitely gonna make you forget you even asked the question. The journey to Navagio Beach begins at Porto Vromi ("dirt"), a malodorous name but a most picturesque departing point. Get on board the small boat and let the captain and the crew transport you by sea to a destination like no other. Along the way you will enjoy the incomparable rugged coast of Zakynthos, meet Poseidon face to face, and swim in pristine coves where you might get pregnant just by sitting on the sand and the rocks.
Did you know that the stranded vessel is actually responsible for the formation of Navagio Beach? It is like a charming lady, long past her prime, who refuses to give up the game, and makes one last great effort to entice her suitors to her place. She sits in the middle of the room and spreads her charms all around her, creating an enchanting setting for them to enjoy. It is a magic act, where a shore of black pebbles is transformed into a pristine white sandy beach.
If you seek a totally unexpected and panoramic view of Navagio Beach, just take the alternative route overland and reach the Smuggler's Cove from the top of the surrounding hills. Along the way you will visit the monastery of Panagia Anafonitra, where you will earn the true meaning of forgiveness.
And when you have had your fill of busy tourist spots and overcrowded beaches, leave the coast behind you and head inland. The mountains, valleys, and inland village of Volimes are the island's best kept secret.
Panos Lykourgiotis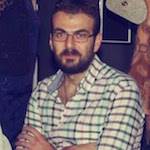 Panos Lykourgiotis is a renowned photographer from the island of Zakynthos. He has explored and photographed the Navagio beach for many years.
Details
Starting point
Porto Vromi Anafonitria, Zakynthos
Finishing point
Shipwreck Beach, Zakynthos
Opening hours
There are two ways to approach Navagio Beach: by boat or by car. Access by boat is through various operators at Porto Vromi, with times depending on each operator's hours of operations. Access by car is possible throughout the day and there are no obvious hour restrictions. Please note, though, that the actual shipwreck is only accessible if you go by boat, since there is no path leading to it from the Observation Point in the hills overlooking Navagio beach.
Additional admission
There is no admission for Navagio Beach but each boat operator will charge a ticket to carry you there. Prices vary, so please contact the boat operator of your choice for more information.
Only logged in customers who have purchased this product may leave a review.
Why take a self-guided tour?
This is a self-guided tour based on the award-winning storytelling concept developed by Clio Muse and the fascinating narratives prepared by our handpicked destination experts.
You can enjoy each multilingual tour by using your smartphone or tablet at your own pace even if you are offline. The interactive map on your screen will guide you step-by-step as you explore all points of interest along your route. Each stop comes with a selection of our signature stories allowing you to tailor the tour experience to your personal interests and schedule.
After downloading Clio Muse app, you can access this tour and activate it any moment you wish and also repeat it any time. To best enjoy our multimedia self-guided tour (comprising maps, video, audio and text) we recommend the use of headphones.