Athens National Garden tour: the early years
Description
An inspiring self-guided audio walking tour in the Athens National Garden with credible & original stories written by top local professionals. Take your tour now & enjoy it instantly on your smartphone device.
The most beautiful garden of the kingdom is none other than the National Garden, an oasis in the heart of Athens that was created in the 1840s on the initiative of Queen Amalia. Her passion for gardening transformed 40 acres of rocky and arid wasteland into a botanical garden rich in native and exotic flowers and trees. This tour is dedicated to the garden's creators, the main sights and its current inhabitants, from the tree of heaven to the lowly cousins of the Teenage Mutant Ninja Turtles.
Today the Garden has seven kilometers of trails, six ponds, and contains about 520 species of plants (¾ of which are of foreign origin) with 7000 trees and 40,000 shrubs. The average temperature is usually 3-5 degrees lower than the surrounding urban environment so it is the ideal place to be on a hot summer day.
The garden occupies an area rich in antiquities and points of interest. The tour begins at the main entrance on Amalias Avenue, where you can enjoy the magnificent desert fan palms, planted by Amalia herself in December 1847. It is the only group of palm trees from her time that survive, which is rather sad when one considers Amalia's desire to be known as "the queen of palm trees". But there are many remnants of her time spread all over the place, including Amalia's seat atop a rock near the temple of Olympian Zeus, one of her favourite spots from where she had an unimpeded view of the Acropolis and the Aegean Sea. There is also the Roman mosaic to the east of the parliament building, discovered during the garden's construction and used for dinners and dance parties.
There are numerous antiquities strategically placed in the garden, including an impressive section of the architrave from Hadrian's reservoir on Mount Lycabettus that mysteriously ended up in Amalia's garden. Nearby is the Children's Library building, erected in 1847 as a surprise for King Otto. In a letter to her father Amalia notes that the projecting roof reminded one of a "Swiss house," which is a fairly accurate description. And one should not fail to visit the first large greenhouse in Greece, located in the Garden. It is slightly sunken into the ground, has a roof of metal connectors and reinforced glass and protected the young and sensitive plants until they were ready to be transplanted outside.
Leonidas Argyros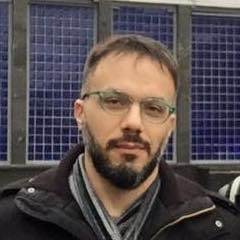 A grumpy man with a PhD. He is fascinated by words; when he sees them forming beautiful sentences he feels like an apprentice wizard who just produced fancy potions out of cauldrons full of frog legs and tears of bats. In his spare time he roams about town or watches anything produced and narrated by Sir David Attenborough, an inexhaustible source of similes. In Canada, he learned to love the cold, but he is much happier working in Athens.
Details
Address
National Garden, Athens
Starting point
Amalias 1, Athina 105 57 (Metro Station Syntagma, exit towards Ethnikos Kipos)
Finishing point
Amalias 1, Athina 105 57 (Metro Station Syntagma, exit towards Ethnikos Kipos)
Opening hours
Daily from sunrise to sunset
Only logged in customers who have purchased this product may leave a review.
Why take a self-guided tour?
This is a self-guided tour based on the award-winning storytelling concept developed by Clio Muse and the fascinating narratives prepared by our handpicked destination experts.
You can enjoy each multilingual tour by using your smartphone or tablet at your own pace even if you are offline. The interactive map on your screen will guide you step-by-step as you explore all points of interest along your route. Each stop comes with a selection of our signature stories allowing you to tailor the tour experience to your personal interests and schedule.
After downloading Clio Muse app, you can access this tour and activate it any moment you wish and also repeat it any time. To best enjoy our multimedia self-guided tour (comprising maps, video, audio and text) we recommend the use of headphones.