Description
A fascinating self-guided audio walking tour in Kerameikos' cemetery in Athens with credible & original stories written by top local professionals. Take your tour now & enjoy it instantly on your smartphone device.
Kerameikos: The "Elysian Fields" of Art is an elegiac new tour about the classical cemetery of Athens, final resting place of many prominent Athenians such as Pericles. Kerameikos, once described as the fairest neighbourhood of ancient Athens, is an archaeological site packed with history, art, and natural beauty totally unexpected in this busy and crowded part of contemporary downtown Athens.
The tour begins with the exquisite funerary monuments in the museum of Kerameikos, a treasure trove of ancient Greek art but also a melancholy discourse on the fleeting beauty of youth and life. The museum's courtyard is small and yet in the few steps it takes to see it from one end to the other you will discover centuries of funerary practices and the figure of Virgin Mary comforting the living and the dead. The Road of the Tombs resembles a field of marbles in bloom as you walk towards an open-air temple where the Athenians worshipped their common ancestors and young couples asked for assistance from their ancestors in their efforts to be happy.
Then you encounter Eridanos, the smallest of the three rivers of ancient Athens, that still flows through the city today, largely unseen. Here it creates an unexpected mini-ecosystem that charms all visitors. traverses Athens today. The Sacred Gate is a place where history comes alive as you see the very stones and pieces of marble used by Themistocles to build the wall of Athens after the city's destruction by the Persians in 480 BC. The Pompeion was a dining venue for philosophers and comedians, but during the great feasts of Athens it became an immense meat market that supplied thousands of people with meat from the sacrifices in honor of the goddess Athena. Dipylon was the most impressive gate of Athens but also served as a meeting place for travelers and a convenient spot where young people could leave love notes (on the walls).
17 dekaefta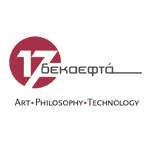 17 is a multipurpose venue dedicated to creativity and intellectual pursuits. It organizes seminars on philosophy, psychology, photography, painting etc. It also provides training on computer science, robotics and 3D printing.
Details
Starting point
Ermou 48, Athina