Description
An engaging self-guided audio walking tour about Greek mythology in downtown Athens with credible & original stories. Take your tour now & enjoy it instantly on your smartphone device.
Greek Mythology Traces is an entertaining journey through downtown Athens with the accompaniment of glorious Greek myths. Follow a carefully designed route through Athenian landmarks, explore some of the most magnificent parts of the city and dive into the captivating reality of ancient times as you read riveting stories about the gods and heroes of ancient Athens.
The tour begins at the Temple of Olympian Zeus where you learn about the difficult childhood of the supreme god and his struggles against his own father and the Titans. Zeus and his siblings (Poseidon, Hades, Hera, Hestia and Demeter) fought against the dominant Titans for the right to rule the world in a struggle that raged for ten years. Next stop is the Monument of Lysicrates, honoring Dionysus, the god associated with the vine, winemaking, ritual madness, religious ecstasy and theatre. During one of his journeys he was captured by a group of Tyrrhenian pirates who wanted to sell him as a slave. His miraculous escape is narrated on the monument's marble surface.
The cave of Aglauros and the Erechtheion are both associated with Athena and her early days as patron-goddess of Athens. The Areopagus Hill, on the other hand, is the site of the first murder trials in the Greek world. Ares, the god of war, sought vengeance for the rape of his daughter; Daedalus was charged with the murder of his nephew, whom he pushed off the Acropolis because he was envious of the young boy's skill with his hands. The Temple of Hephaestus honors the god of fire and brings to mind his difficult relationships with both his mother and his wife. Finally, the Statue of Theseus commemorates one of the main heroes in Greek mythology who was especially admired in Athens as the founder of the city. The Athenians took advantage of every opportunity to associate themselves with Theseus and project themselves as the descendants of the great king.
Greeking.me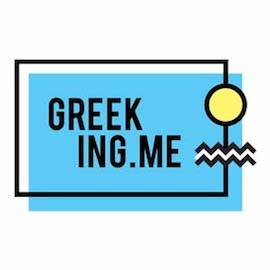 Greeking.me is a creative travel agency that takes small groups on highly customized experiences with knowledgeable & fun field experts. Focusing on the authentic Greek culture, they offer thematic walking tours, Greek cooking classes and many more.
Details
Address
Temple of Olympian Zeus
Starting point
43 Leof. Vasilisis Amalias, Athina (Metro Station Acropolis)
Finishing point
Ag. Asomaton and Adrianou, Athina
Inclusions
Self-guided audio tour in English for your smartphone (Android & iOS)

An activation link to access your audio tour

Offline content with an offline interactive map to avoid roaming charges
Exclusions
Live Guide

Smartphone or headphones

App not compatible with Windows phones

Food and drinks

Hotel pick-up and drop-off
Know before you book
This is a downloadable self-guided audio tour for your smartphone. No live guide will accompany you. No VR / AR is included

After booking, you will receive an email with further instructions on how to access your audio tour. Please check your email spam folder as well

An Android or iOS smartphone is required

The audio tour is not compatible with Windows Phones, iPhone 5/5C or older, iPod Touch 5th generation or older, iPad 4th generation or older, iPad Mini 1st generation

Please ensure you have enough storage space (100-150 MB) 

Book per device to be used, not per participant

Non refundable once activated.
Know before you go
Internet access might be unavailable & mobile signal may be weak. So please download the audio tour on your smartphone prior to your visit in order to enjoy it offline

Use your headphones to best enjoy it

Ensure that your smartphone is fully charged prior to your visit
Areas
Temple of Olympian Zeus, Plaka, Areopagus Hill, Pnyx, Ancient Agora
Recommended visiting hours
Only logged in customers who have purchased this product may leave a review.
Why take a self-guided tour?
This is a self-guided tour based on the award-winning storytelling concept developed by Clio Muse and the fascinating narratives prepared by our handpicked destination experts.
You can enjoy each multilingual tour by using your smartphone or tablet at your own pace even if you are offline. The interactive map on your screen will guide you step-by-step as you explore all points of interest along your route. Each stop comes with a selection of our signature stories allowing you to tailor the tour experience to your personal interests and schedule.
After downloading Clio Muse app, you can access this tour and activate it any moment you wish and also repeat it any time. To best enjoy our multimedia self-guided tour (comprising maps, video, audio and text) we recommend the use of headphones.