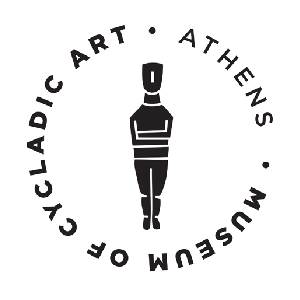 Museum of Cycladic Art
Description
A free self-guided audio tour for the exhibition Crete. Emerging cities: Aptera – Εleutherna – Knossos at the Museum of Cycladic Art in Athens. The exhibition outlines the life of three cities Aptera, Εleutherna, and Knossos, from their founding and development to their abandonment and rediscovery through recent archaeological investigation and excavation.
Highlights
1. Vessel in the form of a Siren

Plastic vessel in the form of a Siren, 2nd – 1st century BC, Aptera.

2. Censer

Terracotta censer, with relief face on one side, late 8th/7th century BC, Εleutherna.

3. Lamp in the form of a panther

Bronze lamp in the form of a female panther, 2nd/1st century BC − 1st/2nd century AD, Εleutherna.
Featured stories
Plastic vessel in the form of a Siren

Vessel in the form of a Siren

Vessel in the form of a Siren, who appears to be ripping off her feathers or pulling her hair in a gesture of mourning. This ritual vase was produced in a local workshop. The representation of the mythical episode of the mourning Siren on local pottery suggests that one of the Aptera's founding myths, reported by Stephanus of Byzantium, was formed during this period.

Terracotta censer

Censer

A Daedalic-style face is depicted on one side. The base, stem, and reservoir were made separately and joined together. Traces of fire are visible inside the reservoir. This shape has Cycladic and Minoan prototypes, and together with the face recalls Minoan and eastern prehistoric, as well as Geometric parallels.

Bronze lamp in the form of a panther

Lamp in the form of a panther

Plastic lamp in the form of Dionysus riding a pouncing female panther with hanging teats. The god is effeminate, with accentuated breasts, and wreathed with ivy. His right arm originally held a thyrsus staff or spear. His left hand holds an ivy branch for reins.
Museum of Cycladic Art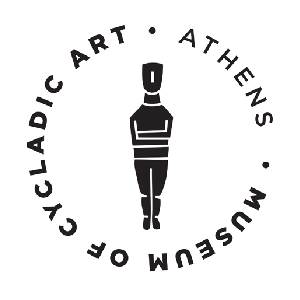 Τhe Museum of Cycladic Art is dedicated to the study and promotion of ancient cultures of the Aegean and Cyprus, with special emphasis on Cycladic Art of the 3rd millennium BC. It was founded in 1986, to house the collection of Nicholas and Dolly Goulandris. Since then it has grown in size to accommodate new acquisitions, obtained either through direct purchases or through donations by important collectors and institutions.
Details
| | |
| --- | --- |
| Address | Neophytou Douka 4, Athens |
| Starting point | Museum of Cycladic Art |
Why take a self-guided tour?
This is a self-guided tour based on the award-winning storytelling concept developed by Clio Muse and the fascinating narratives prepared by our handpicked destination experts.
You can enjoy each multilingual tour by using your smartphone or tablet at your own pace even if you are offline. The interactive map on your screen will guide you step-by-step as you explore all points of interest along your route. Each stop comes with a selection of our signature stories allowing you to tailor the tour experience to your personal interests and schedule.
After downloading Clio Muse app, you can access this tour and activate it any moment you wish and also repeat it any time. To best enjoy our multimedia self-guided tour (comprising maps, video, audio and text) we recommend the use of headphones.