Colosseum & Roman Forum Entrance e-ticket with 2 Audio Tours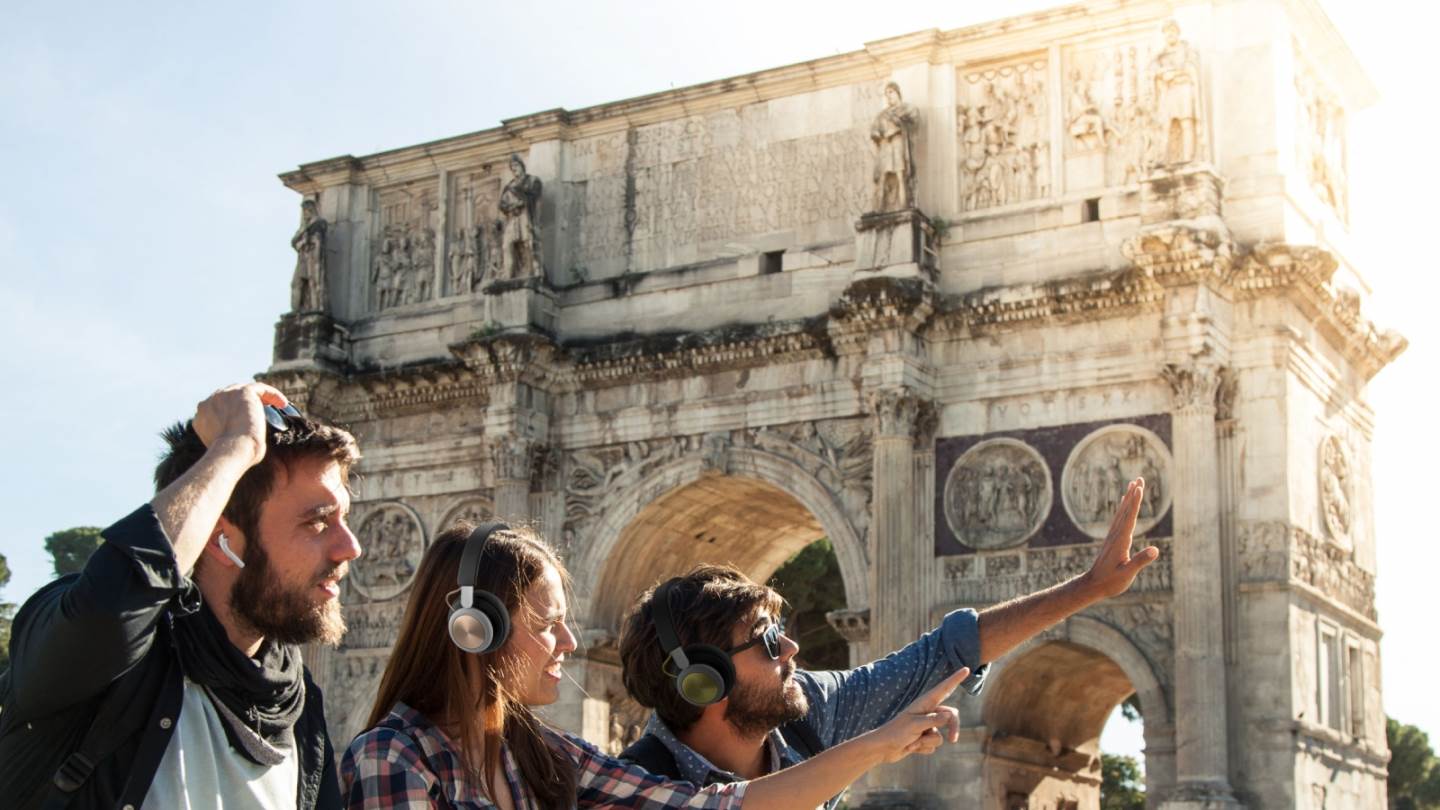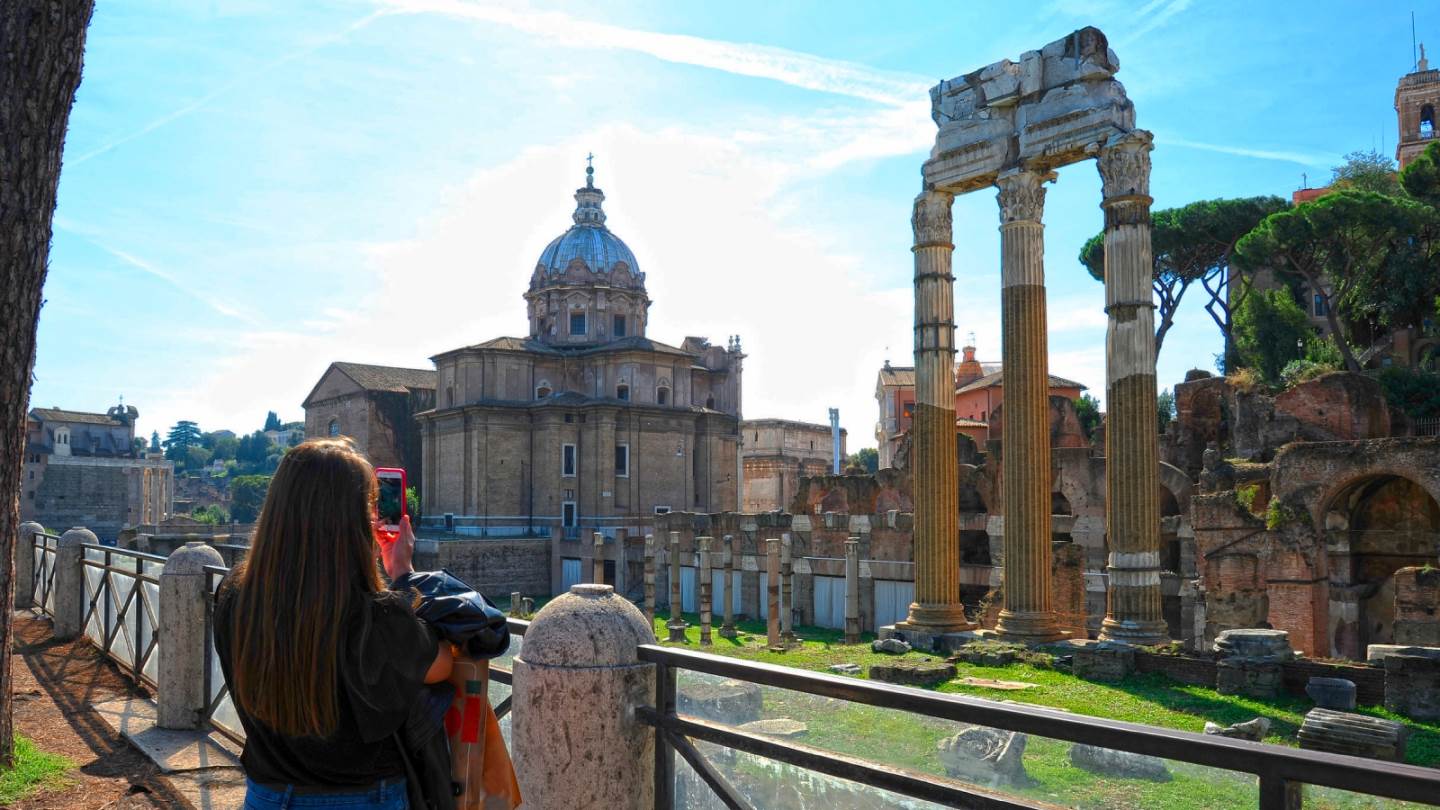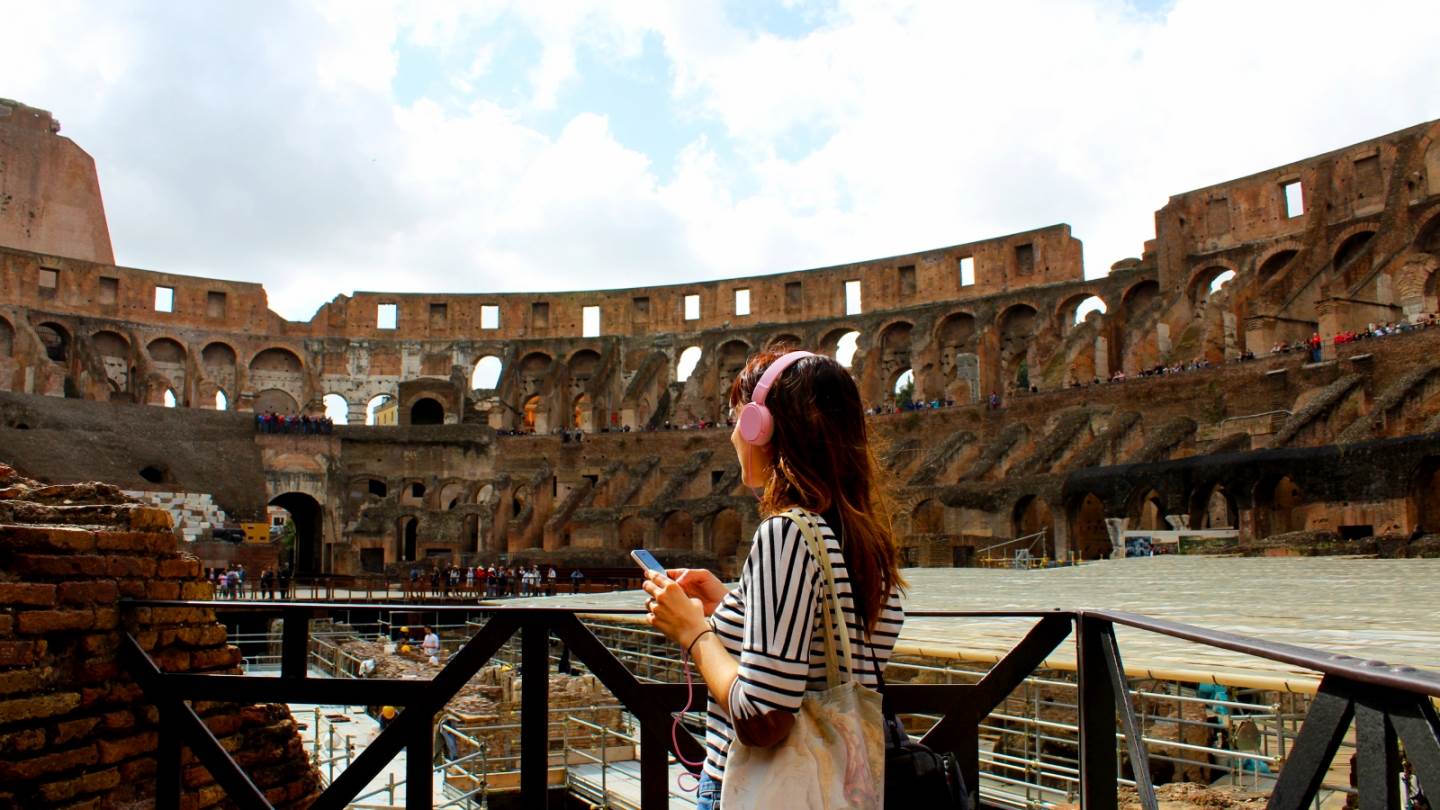 From: 38,00€ per person
Entrance e-ticket

Use your phone or print the voucher

Self-guided audio tour

Follow the story at your own pace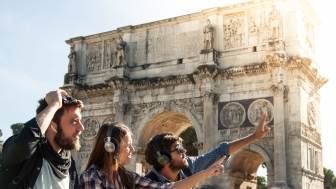 Colosseum & Roman Forum Entrance e-ticket with 2 Audio Tours
From: 38,00€ per person
Book now
Overview
2h 40min

115

stories

4km

distance

21

stops
Experience the Colosseum and the Roman Forum at your own pace with a skip-the-line e-ticket and two captivating self-guided audio tours on your smartphone. 
Receive your ticket by email, download the app and the audio tours on your phone, prior to your visit, and travel back in time to experience the grandeur of Imperial Rome. 
Put on your headphones and explore the fabled Arena, the crater-like Cavea, the Colosseum square, the iconic Arch of Constantine, the Basilica Aemilia and the famed Temple of Caesar through the power of storytelling and learn historical information and uncommon stories and anecdotes from the ancient times. 
Tours' content is the result of in-depth research, squeezed into brief original stories that will make your visit both engaging and informative. The audio tours can be used repeatedly and anytime, before or after your visit.
This is an unmissable opportunity to experience at your own pace history come alive and relate to your surroundings in an entirely original way.
Audio Preview
Let's get the party started!
The construction of the Colosseum began during the reign of Emperor Vespasian, but it was his son Titus who inaugurated the amphitheater, in the year 80 CE. The opening ceremony was held with all the spectacle and grandeur that the event had to entail. Three-month long games were organized as part of the grand inauguration with the events being scheduled according to the customary way; the hunts in the morning, the executions at midday and the gladiatorial combats in the afternoon. Of course, all this was realized at the expense of human lives and thousands of animals, as 2000 gladiators and 9000 animals died during Titus' inauguration games.
Inclusions

and

Exclusions
Inclusions
Adult entry ticket  for the Colosseum, the Roman Forum & the Palatine Hill

valid for 24h, for one entrance to the Colosseum & one to Roman Forum-Palatine Hill.

Skip-the-line service

Two self-guided audio tours for your smartphone (Android & iOS) in English 

Offline content (text, audio narration and maps)
Exclusions
Live Guide

Smartphone or headphones

Food and drinks

Transportation
Mandatory items
Charged smartphone, headphones comfortable shoes, hat & sunscreen
Charged smartphone
Headphones
The
location
Address
Colosseum - Piazza del Colosseo, 58, 00184 Roma RM, Italy
Starting point
Inside the archaeological site of the Roman Forum
Directions to starting point
Bus: 75 – 81 – 673 – 175 – 204
Metro: from Termini Station take the underground line B and get off at the Colosseum stop.
Car: near the Colosseum, there is a car park, easily reachable from Via Fori Imperiali.
Tram: Line 3
Areas
Arena, Basements, Pope's Cross, Cavea, Daises, Colosseum Square, Arch of Constantine, Stern Abutment, Basilica Aemilia, Comitium and Curia, Arch of Septimius Severus, Temple of Saturn, Main Square, Via Sacra, Temple of Caesar, House of the Vestals, Basilica of Maxentius, Arch of Titus, Temple of Venus and Rome
Important

information
Opening hours
January 2 to February 15: 8:30 a.m. – 4:30 p.m.
February 16 to March 15: 8:30 a.m. – 5 p.m.
March 16 to last Saturday of March: 8:30 a.m. – 5:30 p.m.
(Last Sunday of March to August 31: 8:30 a.m. – 7:15 p.m.)
September 1 to September 30: 8:30 a.m. – 7 p.m.
October 1 to the last Sunday of October: 8:30 a.m. – 6:30 p.m.
(Last Sunday of October to December 31: 8:30 a.m. – 4:30 p.m.)
From 8:30 a.m.to one hour before sunset (exceptions: Good Friday 8:30 a.m. – 2 p.m., June 2 1:30 p.m. – 7:15 p.m.)
Recommended visiting hours
For the Colosseum, the less crowded hours are from 8:30 a.m. to 10.00 a.m and then from 5:00 p.m. until closing time, but the monument is still pretty much always crowded given it's one of the most important not only in the city but in the whole world.
Spring and Summer are also, of course, a more popular visiting time than Autumn and Winter.
Please note this information is valid in normal/non-pandemic times. Please advise the official Colosseum authorities for more information regarding the current opening and crowded hours.
Know before you
book
This is a combination of two downloadable self-guided audio tours for your smartphone (accessible through our app) and a combo skip-the-line e-ticket for the Colosseum and the Roman Forum

This product is suitable for adults over 25 y.o. (Only adult ticket(s) inluded). If you are eligible for reduced or free entry tickets you need to book them online elsewhere. See below who is elegible for reduced/free tickets
Participants under 18 years old, as well as visitors with disabilities accompanied by one family member / a helper (belonging to the health and social assistance service), are eligible for free admission. Reduced tickets are also available for EU citizens 18-25 years old
Please note that due to limited availability of tickets, the selected timeslot might change. If this is the case, one representative of Clio Muse Tours will contact you for amendment.

No live guide or meeting point provided

You will receive an email  with important ticket & audio instructions

Booking requests received between 17:00 to 8:59 (UTC+02:00) are served from 9.00 and on.

An Android

(version 5.0 and later)

or iOS smartphone is required.

The audio tour is not compatible with Windows Phones, iPhone 5/5C or older, iPod Touch 5th generation or older, iPad 4th generation or older, iPad Mini 1st generation

You will need storage space on your phone (300-350 MB)

Free/reduced admission tickets can only be acquired at the ticket booth on-site

The ticket is valid for 24h and for one entrance to the Colosseum and one to the Roman Forum-Palatine Hill

The Roman Forum and the Palatine Hill are located in the same archaeological area and count as one admission

This product does not offer a tour for the Palatine Hill

Non-refundable
Know before you
go
Download the ticket(s) & audio tours while on WiFi prior to your visit – no wifi/4G on-site

Check your spam folder as well.

Tickets need to be either printed or downloaded on your phone

Ensure that your smartphone is fully charged & that you bring your earphones

All visitors need to arrive 30 minutes in advance to go through the security check-in at the Colosseum. Late arrivals will not be accommodated

The booked entrance time is for the Colosseum entrance. After visiting the Colosseum, visitors can enter the Roman Forum and the Palatine Hill with the same ticket(s) in the following 24h

Large backpacks and bulky bags/ luggage are not allowed

For safety reasons, the Colosseum can accommodate up to 3.000 people at once. Delays may occur even for pre-booked visitors, but this is still the speediest entry to the site
Contributors and Bibliography
Contributors
Benedetta Geddo
A journalist for Lonely Planet Travel News, a writer for Bossy Italy with an overflowing love for art, travelling and Korean pop music.  I write about all those things that attract my attention from Italy and abroad.
Find me on Instagram @beegeddo
Freelance Travel News Reporter @Lonely Planet News
Author @Bossy Italy