This winter the Theoharakis Foundation, continuing its successful course in organizing exhibitions that stand out presents seventy-three unique paintings that aim to highlight the appeal of the Human Form in the history of 20th-century Greek painting. The artworks are from the collections of the National Gallery-Alexandros Soutsos Museum and the E. Koutlidis Foundation.
The exhibition, called "The Human Form in Greek Painting – 20th century" gives the opportunity to the visitor to learn that the human form is a favorite subject of the artists throughout the 20th century. It also allows us, to observe the gradual release of the human form from the academic naturalism and its expressive autonomy, as well as the effect that the pioneering movements of the early 20th century exerted in the Contemporary Greek painting.
The visitors will marvel paintings of Yiannis Moralis, Panagiotis Tetsis, Yiannis Tsarouchis, Nikos Hadjikyriakos – Ghikas, Symeon Savvides, Thalia Flora – Karavia, Spiros Papaloukas, Giorgos Bouzianis, Christos Carras, Yiannis Gaitis, Dimitris Mytaras, etc.
Clio Muse is hosting a free self-guided digital tour for the exhibition, showcasing some of the unique exhibits and assisting visitors to learn the stories behind them. Using your own smartphone, you can enjoy the exhibition at your own pace, anytime you wish.
Take an early taste of the exhibition with the following artworks:
Exodus, 1964, Carras C.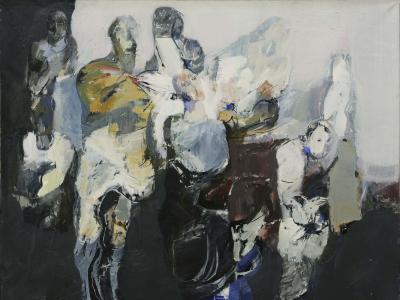 Bodies on the edge of decomposition indicate deadlock and despair.
The Exhibition, 1912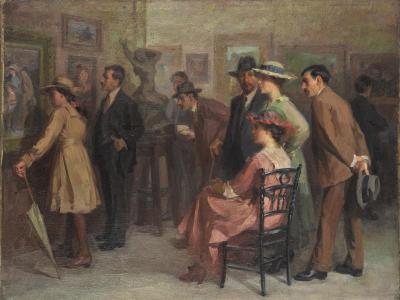 One of the earliest works of Gounaropoulos, that retains his academic naturalism, while revealing to us his beliefs of the urban Athenian society.
Evening Memories, 1959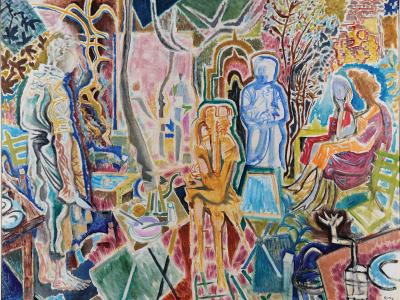 At this post-war painting, Nikos Hadjikyriakos – Ghikas is leading towards a greek-way Cubism, where the man is visible and always present, partakes and mystic at the mystery of life.
Composition, 1975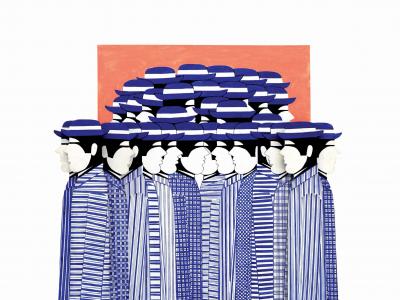 Gaitis' figures are arranged in groups of striped or plaid suits, attributed to alongside repeated themes and in indefinable space, expressing the sacrifice of the human condition in a consumerist society.
Many more marvelous paintings with hidden meanings are waiting for you at the Foundation. Take the free tour and discover their secrets!
More Info:
Exhibition: The Human Form in Greek Painting – 20th century
Organizer: B. & M. Theocharakis Foundation for the Fine Arts and Music, National Gallery-Alexandros Soutsos Museum and the E. Koutlidis Foundation
Duration: 22 January 2020 – 26 April 2020
Opening Hours: Monday-Sunday, 10 am to 6 pm, Thursday, 10 am to 8 pm
Address: Theocharakis Foundation, Vasilissis Sofias 9 & Merlin 1, Athens 106 71