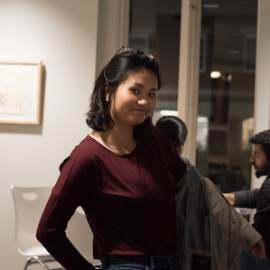 Lan Phan
Arcadia University Intern
Whenever my friends asked me whether I wanted to pursue videography as a profession, I always told them no: I was afraid that I would lose my passion if I ended up doing it for a living. Interning at Clio Muse has proved otherwise, that doing what I love is indeed one of the most fulfilling experiences I can ever have.
My routine was settled a couple of weeks in the semester: I would enjoy walking to and from the internship site every Tuesday and Wednesday, getting lost in my thoughts while enjoying the view of Athens. Then on the weekends I would go explore, put on one of the Clio Muse audio tours (because they are free for employees, and all free things are great) and start filming. In that way I got the best of both worlds: I felt motivated to go sightseeing while still being productive.
I do not get as much invisibility while filming as I would like though, as it is fairly easy for Greek people to realize I am foreign: I was born and raised in Vietnam, and have been pursuing my college degree in the United States as an international student for almost 3 years. That means I move around quite a bit: I have really been enjoying living in new countries, knowing that there are infinite possibilities that await. Greece is no exception, as I love my time here. Sadly, my lactose-intolerant self has been giving me a hard time enjoying Greek food.
But what doesn't kill you makes you stronger, so I can I have another serving of tzatziki, please!